Material Dichotomy
NE Sculpture Gallery Factory
Opening Friday, February 28, 7 - 10pm
Curated by Nathanael Flink
Casket Arts Factory
1720 Madison Street
NE Minneapolis
(612) 743-6664

Hours: Thurs, Fri, Sat 12 - 5pm
or by appointment through March 14.




---



The Beginning of Everything: An Exhibition of Drawings
Katherine E. Nash Gallery at the University of Minnesota
January 21 - March 28, 2020
Regis Center for Art
405 21st Avenue South, Minneapolis, MN
More Information



---


Book Launch for Object Objects : Shana Kaplow
Saturday, November 2nd, 2019
6:00 - 9:30pm
The White Page Gallery
3400 Cedar Avenue, Minneapolis
Buy Book



---
Shana Kaplow to be an artist in residence at the Joan Mitchell Center in New Orleans, LA, May - June, 2019.
Joan Mitchell Center Artist in Residence Program
---


Shana Kaplow is a 2018 recipient an Artist Initiative Grant from the MN State Arts Board to produce an artist's book. This activity is made possible by the voters of Minnesota through a grant from the Minnesota State Arts Board, thanks to a legislative appropriation by the Minnesota State Legislature; and by a grant from the National Endowment for the Arts.
_______


---


Shana Kaplow : The House is Upside-Down
Denler Gallery at University of Northwestern, St. Paul, MN
October, 2018


---


Shana Kaplow : Inhabit
Alice R. Rogers & Target Galleries
St. John's University, St. Joseph, MN
June 18 - September 23, 2018
Reception: Thursday, September 13, 2018, 5-7pm.
Artist's talk at 6pm.
https://www.csbsju.edu/fine-arts/visual-arts/shana-kaplow




---


Situations: A group exhibition
Curated by Mary Bergs
with Anne George, Paula McCartney, Shana Kaplow, and Mary Bergs.
Gallery 71, Edina, MN
April 2018


---


Collapsible Podiums
Rosalux Gallery (with Emmett Ramstad)
1400 Van Buren Ave NE, Minneapolis, MN
February 4 - 26, 2017
Opening Reception: February 4, 2018, 6-10pm
Public Dialogue with the artists and guests Sarah Petersen and Risa Puleo: February 25, 2018, 2-4pm.
www.rosaluxgallery.com



---


Unstoppable
Curated by Vesna Kittelson
Form + Content Gallery
Minneapolis, MN
May 2017


---


International Contemporary Artists
The Tianjin Museum of Art
Tianjin, China, 2016


---


superusted : The Midwest Biennial
The Soap Factory
Minneapolis, MN
September 12 - November 8, 2015

and

Urban Institute of Contemporary Art
Grand Rapids, MI
summer 2016


---


Beyond the Boundary
TEDA Contemporary Museum of Art
Tianjin, China
May 30 - August 30, 2015


---


Low Lying Area
Rosalux Gallery (with Rebecca Krinke)
Minneapolis, MN
August 2 - 30, 2015


---


Vermont Studio Center
Artist in Residence
July 2015


---


Near and Far
The Minneapolis Institute of Arts
Solo Exhibition
April 16 - June 7, 2015


click for information


studio view, 2015



---


Shana Kaplow is on MNOriginal!

January 2015
"An artist residency in Beijing inspired visual artist Shana Kaplow's recent body of work, Close to Home, which explores themes of identity, particularly as the self relates to a collective."

MNO Episode


---


New Work : Shana Kaplow and Michael Sweere
Rosalux Gallery
Opening Reception : April 5, 2014 7-10pm
Exhibition runs : April 5 - 27, 2014
1400 Van Buren St. NE, Minneapolis
Gallery Hours : Sat + Sun : 12 - 4pm

Shana's work includes a 65-foot long sequence of evocative ink paintings that explore the subject of a chair. Working both representationally and abstractly, the work is imbued with complex questions about interconnection, separation, culture, and globalism. Also on view are new video projections with sculptural elements made in collaboration with sculptor, Kirstie Brengman.

rosaluxgallery.com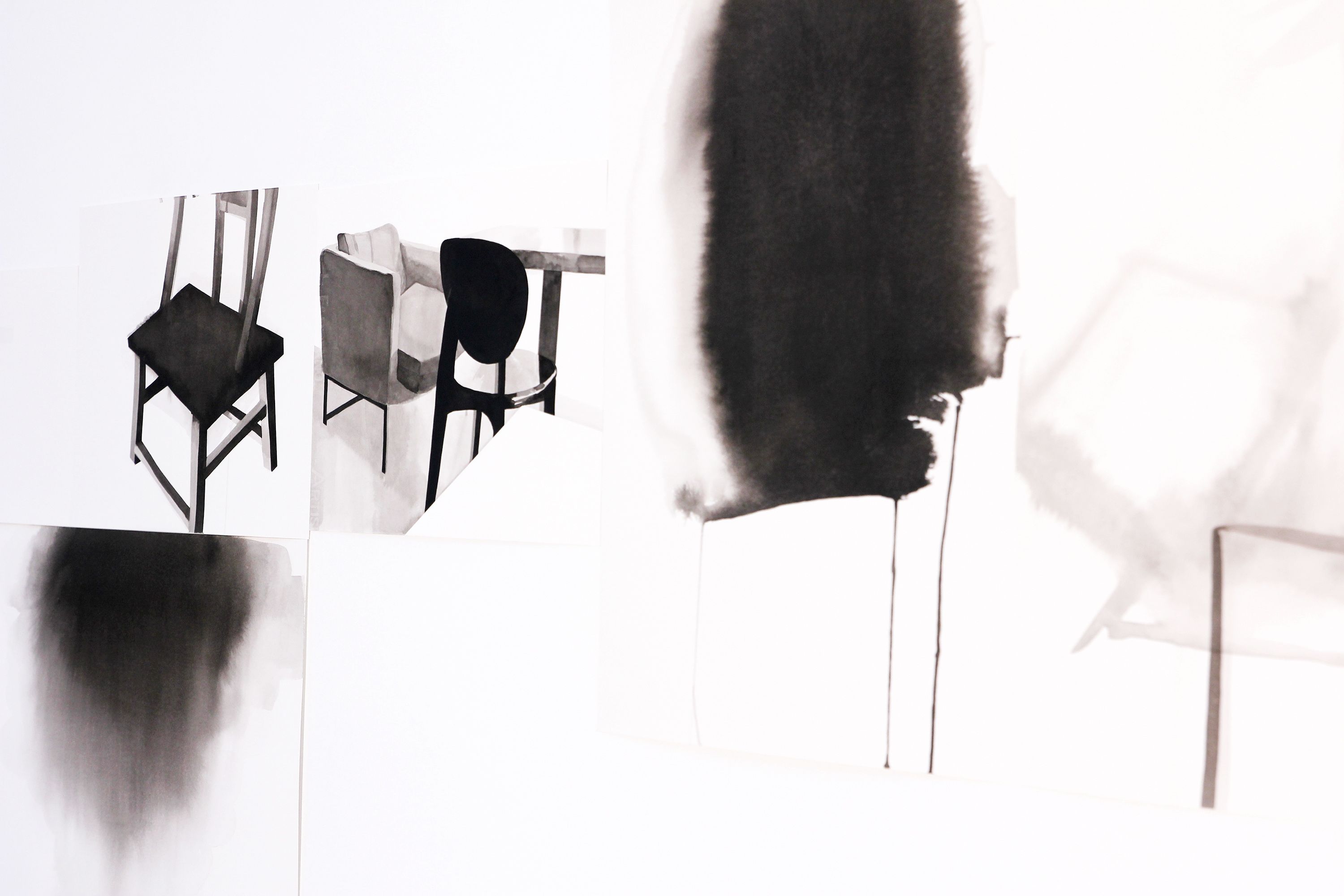 ---



Shana Kaplow is a 2014 recipient of the Minnesota State Arts Board Artist Initiative Grant.
arts.state.mn.us/grants/2014/2014-awarded-ai.htm
(scroll down to 'visual arts' list)



---
Shana Kaplow is a 2013 recipient of the Joan Mitchell Foundation Artists Grant for Painters and Sculptors.
joanmitchellfoundation.org/artist-programs/artist-grants/painter-sculptors/2013
---


Power Lines II
Thomas Barry Fine Arts
Minneapolis, MN
December 6th, 2013 through February 6th, 2014.
https://www.thomasbarry.com



---


Same Difference : Shana Kaplow and Meng Tang
The Third Place Gallery, Minneapolis.
November 19 - 26, 2013.
Kaplow and Tang will host a reception and public dialogue about their work on November 19th, 2013 at 7pm.
https://www.wingyounghuie.com/events/past-events